One day bleeds into the next and I wonder whether I have anything new to say. I walk many of the same streets each day, peer into the same doorways, listen to the same cacophony of sounds, and smell the ever-present scent of lavender floor cleaner mixed with aroma of fresh bread and cakes from the panaderia and of course the occasional whiff of sour garbage. But still, the whole experience seems fresh and new each day. Perhaps, like my walks in Steinbach with Leona and Donna, there is always a new take on the familiar. At home, we stop at the same little library, exclaim over the same rock garden with succulents, pause at the bridge by the Aquatic Centre to watch the water flow, the buildup of green duckweed or the skiff of snow blown into the reeds on the frozen edge of the pond, depending on the seasons. But always there is a slight variation to what my senses take in.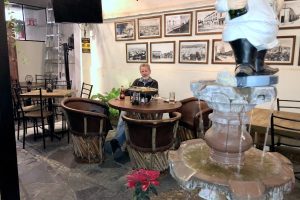 Today was no exception. After a substandard supper in a lovely courtyard with a fountain and gardens, we headed out onto the street and were greeted by loud yelling and fiery torches. We quickly joined the crowd streaming towards El Centro and managed to make our way to the front of the procession. A crowd of Mexicans dressed in traditional campesino costumes (white muslin baggy pants [or skirts] and shirts with red neck scarves and straw hats or bandanas) jostled along the cobbled street. Shouts of Libertad and Vive Allende rose from the marchers. At the front of the procession rode "Ignacio Allende" on a massive white war horse in his military costume. The smell of kerosene from the touches was thick and it felt like being in the middle of an uprising.
Later I googled what the whole thing was about and learned that it was the birthday (254th) celebration of Ignacio Allende, a Spanish military person, who joined the Mexican peasants to overthrow the Spanish colonial government in order to gain independence.
After experiencing that historical celebration we made our way towards our favourite bench, but not before we stopped in at a gallery opening. Wow, what a magnificent setting. The gallery was beautiful but even more amazing was the ruined courtyard behind the gallery. It was a massive open air building with no roof. The 30 foot walls had been whitewashed but the uneven sides, crumbling bricks and stone, and the half fountains and stairs leading to nowhere were a study in texture. The art was modern and the pieces huge. The people were decked out in all the latest artsy outfits (no Armani suits, but rather rugged, torn costumes, leopard print, shimmery gold jackets, and all the latest leather footwear). EVERYONE was beautiful. If there had been no art at all hanging on the walls, it still would have been worth my while to see and experience the building and and the people.
On our way home we sit quietly on 'our bench' and Rudy asks, "When will be stop being amazed by it all?"