This morning, very soon after our breakfast, I got a text from Bridget. She and Wes and a bunch of friends are meeting at Patrice's place (which happens to be just around the corner from our place) for their regular Monday morning jam. Did Rudy want to join? Rudy was game so I brought a chair and Rudy brought his guitar and off we went. There were about 10 musicians and a few hangers on. The structure of the jam went as follows. The musicians went around the circle each taking a turn to suggest a song and sing and play while the others joined in. There were some original songs and lots of cover songs from various artists from Johnny Cash to Chris Stapleton. This type of jam is familiar to me, but new to Rudy. It is a nice way to pass a morning with friends In a courtyard in Mexico.
By one o'clock we were hungry so we joined Bridget and Wes at a restaurant for shrimp tostados. Mmm. They were delicious. Fresh shrimp, chopped tomatoes and onions and avocados on crispy tostados.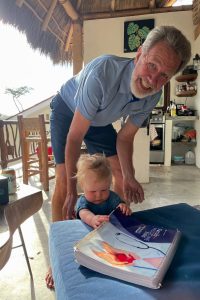 After that I had some time to rest before heading off to James and Augusta's to babysit Callum. They had a date night planned. Callum is as sweet as pie all the time and it is a pleasure to take care of that smiley boy. After some fun playing we went for a walk and met Rudy who joined  us for the remaining time. After more fun and a tub time we popped him off to bed in his little tent and sat out on the patio reading until the parents came home.