The morning started with some uncertainty. What would we see today?  Rudy's stomach was unsettled from last evening's supper so it seemed his sightseeing might be restricted to the inside of the bathroom. This left me with some hesitation. Should I stay or should I go (out)? Rudy seemed to prefer to be left with his troubles, so I set off. Part of me wanted to experience something new and part of me was tired of the low-level anxiety I feel when not exactly sure of my surroundings. So, I decided to do a bit of both. My first stop was a Gordita stand where I confidently ordered a variety of ingredients (who knows what they were) to be stuffed in the gordita taco pocket. I poured on salsas with abandon and walked to the nearest plaza to sit by a statue and eat. It was pretty good and I had confidently tried something new. However, now I had run out of steam. So I headed to the market and turned in at the local "department store". It is the most like north American shopping with prices marked on everything and no hovering shop keepers. I had been in this store the other day to scout out t shirts for Rudy. Today I thought I would check out women's wear. I am positively sick of my one outfit that I wear day and night. Would there at least be some tshirt or tunic to buy to wear over my tights? Well, the answer is no. The clothes were worse than Walmart, The Dollar Store, and Ardenes combined. I either would have to buy a pink crop top with Princesa printed on the front in gold and silver or a dowdy polyester sack meant for a woman much my senior. I wandered past the hair gel (for men) aisle and marveled at the shear volume of products.

(It was a comforting blast from past trips to Guatemala, Peru and Ecuador.)   I did purchase tic tacs and some lotion and it felt vaguely familiar and reassuring. And so I continued my morning jaunt, looking for the familiar amidst the foreign.
I checked out the iconic Callejon de Besos (kissing street) where the street is so narrow that you can kiss from the balcony or window on one side of the street to the other side.
By this time Rudy was ready to join me so we picked him up an empanada and walked to the Union Garden Square to sit out under a patio umbrella for a drink. The waiter brought snacks….cucumber and jicama with chili and lime. Oooo, that hit the spot for me. I have loved jicama since we lived in Guatemala. Rudy, on the other hand, was ready to give it a hard pass.
From here we headed to the Funicular to take a trip up to the top of the city for the view.  If I haven't said so already the houses are piled up, one upon the other, all the way up the steep sides of the mountain. Most streets do not accommodate cars. They are mostly steps and alleyways that twist and wind up and down. There are few streets meeting a right-angles.
The view from the top was stunning. But perhaps the more startling sight was who we met at the top.  And so I took a picture of my former spouse with my present one.  (The once familiar juxtaposed next to the now familiar.)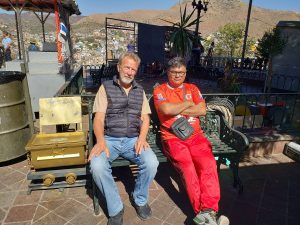 Really the sights for the day could have ended there. I felt I had seen it all. But that being said, the walk down through the narrow staircase walkways was wonderful and confusing. (Had my encounter at the top, or mountaintop experience as some would name it, addled my thinking?) We never really knew where we were going and where we would end up but we kept going down, finding new and interesting sights along the way.
Back at the bottom of the mountain we chanced upon the Cervantes Museum. Each fall Guanajuato hosts an international art festival solely focused on the novel Don Quixote. Artist create work (sculptures and  paintings) interpreting various Don Quixote themes. The museum was amazing with loads of different styles and interpretations.
As always, uncertainty may cause me some anxiety at the beginning of the day, but I am never disappointed about what unfolds. Sometimes uncomfortable, sometimes familiar, and often hilarious, I am always caught by surprise.