Today one of our main activities was a walk to Guadalupe Colonia to visit the Fabrica Aurora.
However, on the way, we were waylaid at various shops and the artisan market. Rudy was hot on the trail for a warm pair of slippers to wear in the evenings on the cold tile floors. Amazingly there were options for Rudy's generous foot size.  And even more astoundingly, Rudy was up for a little shopping experience. But, as I might have predicted, he tired of the hunt before he found what he wanted and determined that he was satisfied with his system of wool socks in sandals and we carried on to the art and design centre.
Fabrica Aurora is an old cotton factory that closed in 1991 but had been in operation since the late 1800s. In its heyday, this factory was the biggest employer in San Miguel employing over 300 people. It imported cotton from the cotton growing regions of Mexico and produced high quality muslin. The factory was named after the daughter (Aurora) of a friend of the owner. In the close to a hundred years it was in operation, it sponsored soccer and baseball teams, held weekly Sunday music concerts for the picnicing employees, and held masses and religious processions.  It now houses artists' studios and galleries.
The building is massive and the dozens of galleries and studios were tucked into rooms and courtyards beside old factory machinery. The whole layout was stunning.
As always when viewing art, I found some of it very appealing and some I was not drawn to at all.
We didn't nearly see it all but the sun was hot and we headed home, grabbing a beer on the way.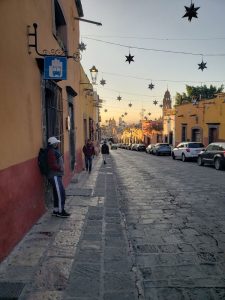 In the evening our ritual walk to keep warm and to find sustenance brought us to El Castillo Pizzeria.
After all, Friday night means pizza night for Rudy and I was happy enough to comply. There were renovations happening on the second floor of the pizzeria so we sat on the main floor with a front row seat to the pizza making. An added bonus to the kitchen show was the heat coming off the wood fired oven. We were so toasty and the pizza was fabulous. The restaurant is a quaint little place and on the wall is a paper maché mural (3-D) of El Centro.  All the employees so friendly and we will return.  We ate our fill and even had some to bring home.
---