It's Sunday and the habit of clearing out the dust from the week and finding inspiration is something I am used to. Oft times this means some discussion with my Prairie Wind group but here in San Miguel I have been getting my inspiration from the visual display the city has to offer. And since it is Sunday it is only fitting that I share some pictures of the beautiful churches.
I go on a walk in the morning. I do my usual climb up the Ruta de Agua steps and then head down and down, and through Benito Juarez Park. It seems like Sunday is a day when artists set up their work along the walkways. It is mostly tourist type stuff but there is one interesting artist who has done fabric art faces with all sorts of cloth, fibers and even jewelry. It is weird and quirky and I love it. I exit on the far side of the park and walk into an area where the sidewalks get wider. Rounding a corner, a man plays a violin in the doorway of restaurant.
Further on is an artisan market, more like the kind you might find at home with wares you won't find in a regular Mexican craft market. Some things are very tempting but I haven't brought my wallet so I don't even have to dither about whether I would like something.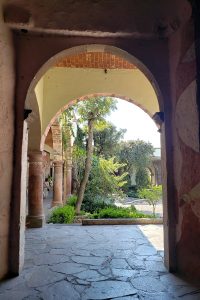 And suddenly I am on a street with courtyards opening to fancy restaurants and art galleries. Will I ever get tired of peering in these inner courtyards? In the one I find a huge mural of the history of Mexico as well as other strange and lovely art.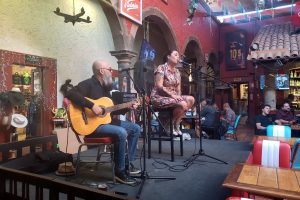 In the afternoon Rudy goes down to watch football at the sports bar and I join him after a while. The singer and guitarist that Rudy talked about from last week are there. The woman really knows how to belt out tunes. Her voice is lovely and strong and she is really into it. The guitarist is great too and he even sings some songs.  Afterwards she comes to talk to us because she recognizes Rudy from  last week (he complimented her on her music) and she mentions singing on Tuesdays at the Rosewood Hotel. "Have we heard of it?" No we haven't but we check out it's location on google maps and head there to have a look. And boy is it worth our while. It is a very ritzy place and we wander around through the courtyards, and salons, and outdoor theatre, and even art gallery. It is all quite astounding.
On the way home, Rudy notices a quote scrawled on the  wall of a shabby courtyard. It says,
Art washes away the dust from the soul.
Yup, I can second that sentiment.