Today Rudy said to me, "It is not a race." But those of you who know me realize that often I view the day as such. This morning I started running before my feet hit the floor.
I had a morning talk on the phone and while eating breakfast I finished sewing together the little monster I had started.
I worked on my blog, uploading pictures and getting the post finished for the previous day.
That done I set out on my walk up the millions (exaggeration intended) of steps on La Ruta Agua.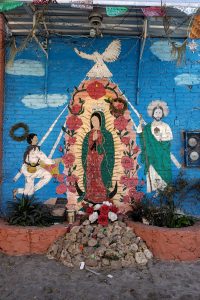 I was determined only to do the climb and then come home but, of course, I got carried away and ended up walking through a new barrio that I had not explored. It was a more regular Mexican neighbourhood with a smaller church and all of the regular things you might find away from the gringo areas.
As I continued there were bigger houses interspersed with the small ones and, eventually, I was back in the area inhabited mostly by foreigners.
Not only did the houses indicate this, the walkers on the streets but also some of the street names. I turned down La Canata (Canada) de Aguacates and headed home in time for lunch and a shower and a lie down with the new book I am reading (Demon Copperhead by Barbara Kingsolver)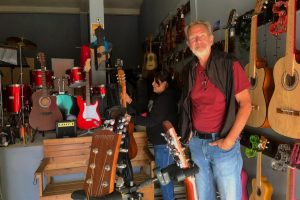 I was a little tired but Rudy suggested I accompany him to the guitar shop he found quite a way away to purchase a guitar. By this time, it was hot, my one bad foot was hurting me, and I dragged behind Rudy
At the end of the day, Rudy said that perhaps we should eat at home instead of going out, to which I readily agreed. My feet were sore from the miles of walking and I had run out of steam.
Like Rudy said, "It is not a race." It might not have been. But if it was, I would have won."